Scotland can give walking and cycling the green light: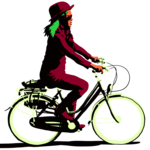 Funding for active travel. Walking and cycling improves health and is a low-carbon form of transport. Yet of the £2.2 billion of the Scottish Government's transport budget, less than 2% is spent on active travel. Green MSPs will propose a radical boost to this funding.10% of the total transport budget would improve existing routes and making them safer, encouraging more people to walk and cycle. This would bring us more into line with other northern European countries, which have far higher numbers of trips made on foot or by bike and reduce air pollution which is estimated to cause over 2,500 deaths per year in Scotland.
Safe streets. Pedestrians and cyclists know where improvements to the road network are needed. A mix of public consultation and participatory budgeting could ensure road users can identify and help fix unsafe routes and junctions and we will call for measures such as 20mph speed limits in residential areas, cycle hubs at bus and train stations, better street lighting and lengthened crossing times at pedestrian crossings.
Safe cycling. Safety and the perception of safety on the road is vital to encouraging more people to cycle. We will work with local authorities to implement a rolling programme to improve bike paths and pedestrian routes whilst doing other routine road safety work. We also want to give every child in Scotland the opportunity to undertake on-road cycle training and will work with councils to do this.
Protecting the most vulnerable. We support a change in the law to 'presumed liability' to protect the most vulnerable road users. This ensures that when road accidents do happen, insurance companies pay compensation to casualties unless it can be proven that the casualty was at fault. We would also call for pedestrians and cyclists with additional vulnerabilities (children, older people or disabled people) to automatically be compensated, bringing Scotland in line with other major European nations.