Greenest Scottish Budget In History of Devolution At A Glance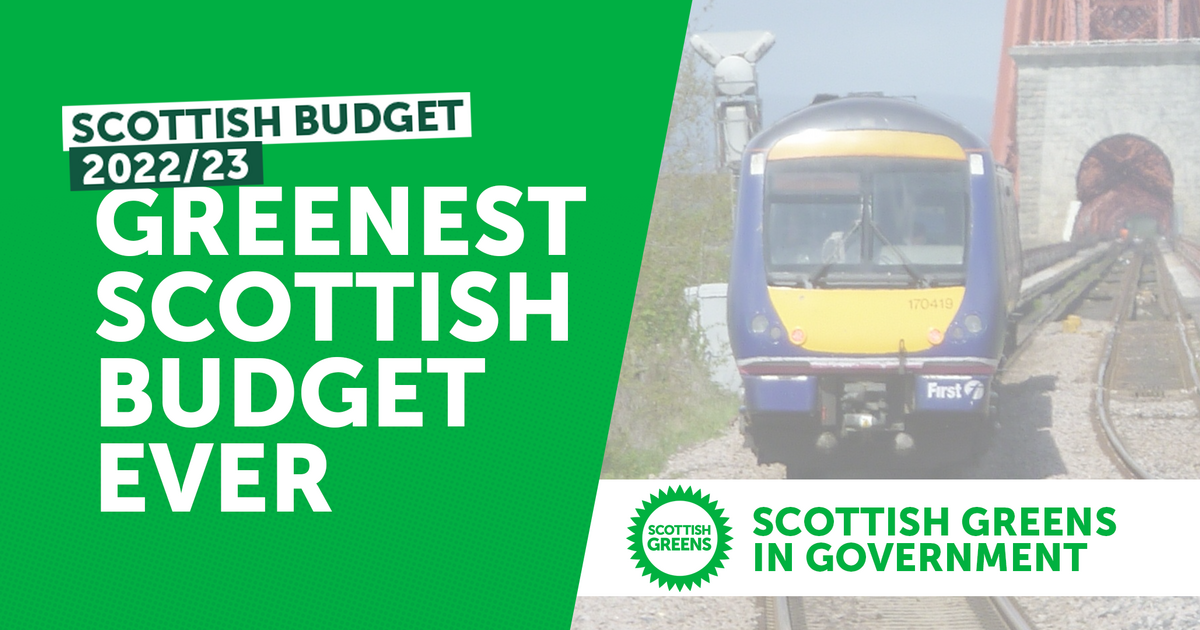 The new Scottish Budget has just been published, described as being the Greenest in the history of Devolution. But what exactly does that look like? Read on:
There's been so many budgets this year, it's hard to keep track. What's this one?
Yup, you are right. The Tory Government has been burning through Prime Ministers and Chancellors like a KLF bonfire so there have been 'fiscal events' and emergency budgets this year too. For our part, we've looked at tackling the cost of living crisis as a priority.
What THIS Scottish Budget does is set our spending for the year 2023 - 2024.
Hmmm. Is it be any better than this year though? Things are all a bit, well, grim.
We're not going to lie, it's been the toughest budget since devolution in 1999, but, from our point of view, we think it has benefited massively from having the Scottish Greens involved from the outset.
We have been able to ensure that spending priorities concentrate on child poverty and the cost of living crisis, while ensuring it is a climate budget and a budget for nature, all while looking at a new deal for local government and fairer tax for public services.
Aye, all very well and good, but what does the 'Greenest budget ever' look like then?
In a number, about £2.2 billion of climate investment, thanks to Scottish Greens being at the heart of this.
You have a typo there, you mean million?
No, we mean £2.2 BILLION
Is the Scottish Government not supposed to be skint?
Well there are problems, the Westminster government has refused to inflation proof the devolved budget for Scotland which means we have had to make money go further.
That has hampered our ability to deal with issues as much as we'd like, and put a pause on other plans which we feel are important. All because of previous Tory wreckonomics.
That's one of the many, many reasons we feel we'd be better off with Independence.
It's easy to blame the Tories, so why not use your tax powers to raise more money?
We have. In what we hope is another Green-led step on a journey to progressive taxation for Scotland, we are tapping up the wealthy to shoulder more of the strain.
Higher rate taxpayers will pay 42p in the pound instead of the current 41p for that part of their earnings above £43,662, and the top rate of tax will start at £125,140 rising from 46p to 47p in the pound.
Does that mean more money for councils then?
There is extra funding for local authorities, they will receive more than half a billion pounds.
What about the strikers?
We've already managed to work with unions to settle a lot of pay negotiations, and some talks remain. But it's interesting to see workers in other parts of the UK are now calling on Westminster to follow our approach.
As Scottish Greens, we respect and support our unions, and will always be a voice for them.
Just this week we've been on the picket lines with the RMT and CWU and hope that they too can find a way through.
It might have been challenging, but has ANYTHING good happened?
It's hard to say things are 'good' in a cost of living crisis, but it is fair to recognise we are pleased to see some things in the Budget thanks to the Scottish Greens.
OK, hit us, what's to like?
There's an extra £50m to expand free meals in primary schools, for example. That's a huge step toward universal cover.
Throw in extra funding for carers, a full roll-out for the Scottish Child Payment, increased money for Adult Disability payments, and using £20m originally earmarked for an Independence referendum for a continuation of the Fuel Insecurity Fund, and it becomes a budget for child poverty and the cost of living crisis.
Wait a minute, child poverty? You said this was the Greenest budget ever
It is. It's a budget for people, for planet. The Scottish Greens have engaged in this budget from the start to tackle both crises.
Where's this £2.2bn being spent then, on planting trees?
We do plant trees, record breaking numbers of them in fact. But we're doing much much more besides. We're spending more on National Parks, NatureScot's budget goes up as does funding for Marine Scotland.
Our biodiversity strategy was published at the COP15 biodiversity summit, and that's getting additional money and we're also keeping the Nature Restoration Fund.
There's also more money for zero waste and the circular economy.
Nothing for farmers?
We're spending £36m on agri-environment schemes, for a start.
We're also spending on the National Test Programme, Agricultural Reform Programme, and Agricultural Transformation Fund to support reaching our net zero targets.
That doesn't all tot up to £2.2bn though? What gives?
Glad you are paying attention.
One of the most important things to take from this budget is getting peak fares on our trains scrapped at last.
We believe this will not only help people out financially, it will support our rail workers and encourage people to ditch other modes of traffic such as cars.
By removing peak fares, we are ensuring that rail travel is the best and greenest choice for long distance travel. That spells good news for the climate by reducing emissions.
Impressive. But what if I don't need to take a train?
We've also announced record sums of money to encourage walking, wheeling and cycling - up to around £200m from £150m. For example, look out for new bike lockers near you.
Also, thanks to the Scottish Greens, we have a community bus fund and bus travel is now free for everyone under 22.
What about those at home or struggling where they live?
We've just announced £366m for programmes to tackle fuel poverty and energy use in buildings.
That doesn't sound very …. exciting?
The important stuff hardly ever does, but trust us, this is absolutely vital to helping transform living standards for people while tackling the climate crisis.
That's helpful, but this took ages, is there more?
That's fair, but it was important that all our Scottish Green MSPs and their counterparts had close meetings with Cabinet Secretaries, and that our Ministers and representatives had time to shape what was going into this budget.
We've talked about just some of the important things Scottish Greens in government have helped achieve, but you can read the entire budget at www.gov.scot
Sum it up in just seven words?
Fairer, greener, budget for people, for planet.
One more thing, who are KLF?
Now we feel old. Ask someone who was around in 1994.
In Focus