Campaign Launched to re-dual the line between Westerton and Milngavie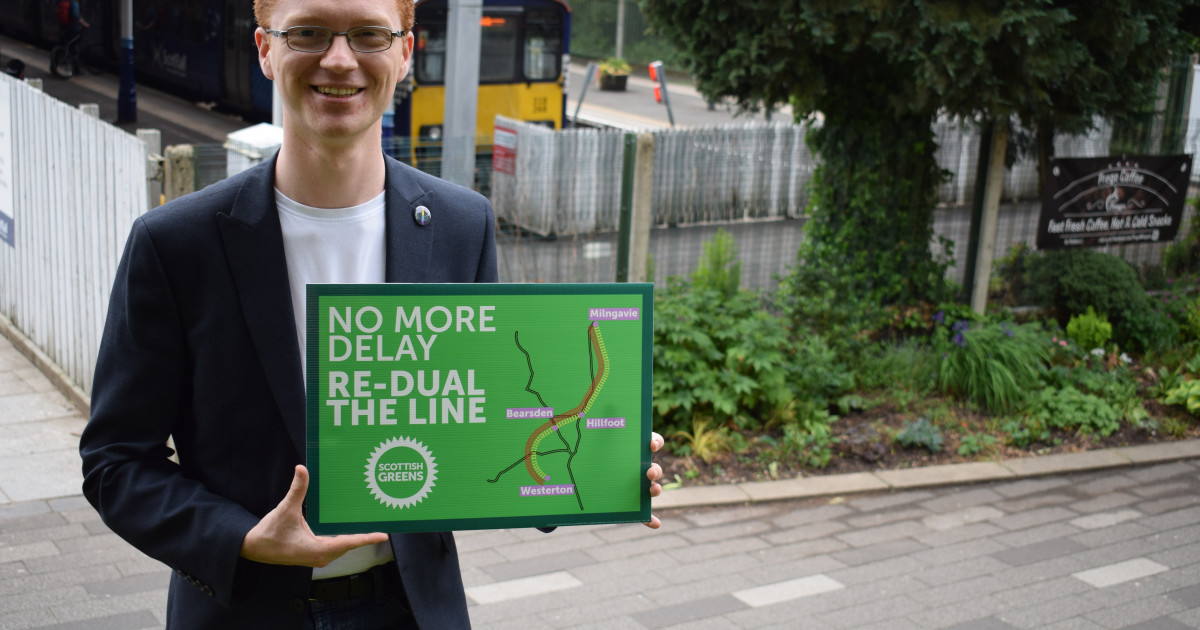 Green MSP Ross Greer has launched a campaign and petition to redual the rail line between Westerton and Milngavie and to build the long-proposed Allander Station.
Ross Greer, MSP for the West of Scotland who lives and grew up in Bearsden has frequently called for action to be taken on delays on the Milngavie line, which has recently become the worst in Scotland for the number of delayed trains, with less than one in four arriving on time. This not only causes inconvenience and annoyance for commuters in Bearsden and Milngavie, but has knock-on impacts across west and central Scotland's rail network, as far as Edinburgh.
At the same time, an additional Allander Station would widen access to this line, reduce parking congestion around existing stations and help relieve congestion and air pollution on the roads into Glasgow.
In May, East Dunbartonshire Council agreed to apply for support from the £2m Local Rail Development Fund, which Green MSPs secured as part of their budget agreement with the Scottish Government.
The petition calls on the Scottish Government to work with Network Rail, Scotrail, East Dunbartonshire Council, SPT and the Glasgow City Region to re-dual the line, which was reduced to a single track by the UK Government in 1990.
Greer will be chairing a public meeting in support of the campaign at Milngavie Town Hall at 7:30 on Monday 25th June. The main speaker will be David Prescott, a rail consultant who has supported communities around Scotland to improve their rail systems, and recently advised Green MSPs in setting up the Local Rail Development Fund.
Ross Greer said:
"These essential improvements have been on the table for decades without progress and the Milngavie line is now the worst in Scotland. Local commuters have had enough. Network Rail and Scotrail have tried minor changes but these have barely made an impact. Only re-dualling the line will fix the problems and radically improve the quality and reliability of our local rail service.
"I'm delighted that the East Dunbartonshire Council are putting serious work into bidding for the funds secured by Green MSPs for feasibility studies. There's cross-party consensus locally that this needs to happen, and I'm encouraging people to get behind the bid and join me in saying "no more delay" by signing the petition today".