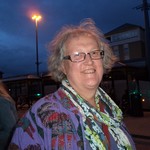 SHEILA CURRIE
Branch Co-Convener
WHAT DO YOU DO FOR H&I?
The two co-conveners enable everyone active in the branch to work together effectively in order to realise our main goals: to get Greens elected and to get Green policies adopted by local and national government. Some of this is the organising of how the branch functions and some is about reaching out to members - wherever they are – to encourage and empower and build Green action. It's also about maintaining a sense of energy and excitement and encouragement.
WHY DID YOU JOIN?
I wanted to put my name to something I believed in that could help change the way we do politics in this country. It took me nine years though to realise that the Party only exists because of all the work its members do to make stuff happen and that I need to be one of those people.
WHAT'S THE SGP POLICY CLOSEST TO YOUR HEART?
A toughie! I think what appeals to me most is the way that ONLY the Greens accept that - yes, the economy is important - it must be managed for the benefit of society not profit and within the limits set by the Environment. The three are indivisible and interdependent; everything in the party is based around Social AND environmental AND economic justice together, so it's hard to pick one; but more community management of land and local resources is up there.
WHAT ARE YOUR HOPES FOR THE BRANCH?
I want to see local Green members being active in every community and area of interest. I'd love for the H&I branch to be big and strong enough to split into several sister branches. I want every member to feel they are part of an active local group and that collectively we make a difference and the Scottish Greens are a visible and trustworthy part of the political landscape in the highlands and islands.
WHAT WOULD YOU SAY TO PEOPLE THINKING OF JOINING?
Talk to any of us and ask us any questions. Think about what YOU want for your local community, country, planet and see what WE've got to offer. We are the only Party clear-eyed enough to squarely face up to climate change and other existential threats and say openly that as a species, as societies, as communities, as individuals we MUST change the way we live – but we've got ways to make that a positive and empowering process. Politics can be so much more than shouting-matches between identikit grey drones in suits…
WHERE IS YOUR FAVOURITE PLACE IN THE HIGHLANDS AND ISLANDS & WHY?
Anywhere there's rocks and nature and sea; and human life and work.
Contact Sheila Currie
Email: higp@scottishgreens.org.uk
Back to People