Scottish Greens Launch Regional Campaign in Central Scotland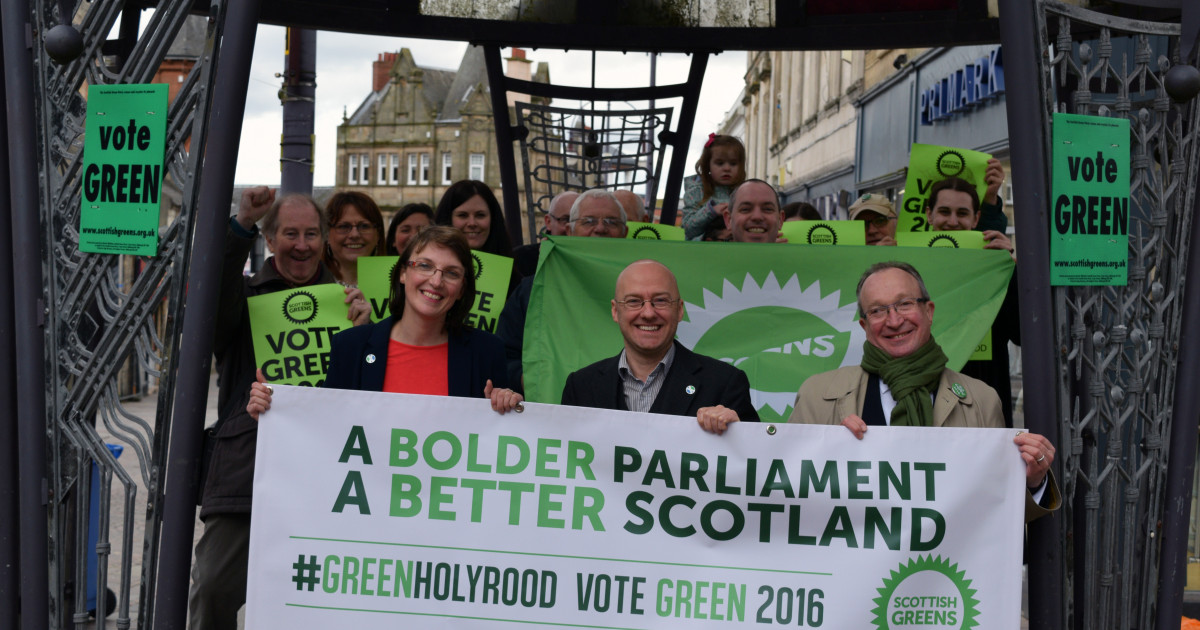 Today the Scottish Green party officially launched its regional campaign for Central Scotland at a rally in Hamilton's town centre.
Scottish Greens Co-convenor Patrick Harvie and regional lead candidates Kirsten Robb and John Wilson highlighted the benefits that Green MSPs could bring to Central Scotland, emphasising that a better Scotland needs a bolder Holyrood.
Kirsten Robb said: "More than ever we need Greens in parliament to push the Scottish Government to be bolder. A better Scotland is possible now, and with existing powers we could do so much more for the people of Central Scotland. We could make homes more affordable by introducing stronger rent controls and building additional public housing; we could better fund our social services and encourage further development by taxing vacant land according to its value; and we could pay our carers what they are owed by society for their hard work, raising thousands out of poverty in the process.
"Waiting for independence to build the Scotland we want makes no sense when these things are achievable now, and so once elected, John Wilson and I will work to deliver them."
John Wilson, who is seeking re-election to parliament, agreed: "I've seen first-hand the effects on inequality throughout the region, but I also see the strength demonstrated by communities struggling with poverty, there's a real appetite here to improve things. With a strong Green presence in Holyrood we can help empower local communities, ensuring people have more say in what happens where they live. We want to see a legal duty for community participation in all local decisions about taxation, spending and services, including a legally-defined minimum proportion of local authority budgets to be decided through participatory budgeting.
"The best people to make a better Scotland are the people of Scotland, and we must ensure they have the power they need to do it."
Capturing the mood of the event, Patrick Harvie said: "Real, positive change is possible here and now. There has never been a more promising time for the Greens than today, and we have two very strong candidates in Kirsten and John. With their passion and experience they make an excellent team, and together they can provide a bold voice for the issues that matter in Central Scotland. I look forward to campaigning with them over the weeks ahead, and to working with them as colleagues in the next session of Parliament."
The event also coincided with the launch of the Scottish Green Party's mini-manifesto on education.
Commenting as the party's spokesperson on Youth Employment, Kirsten Robb said: "Scotland's prospects depend on a secure future for our young people. The Scottish Green Party's commitment to free education for all is unwavering, and we will push for an increase in college places, to put training on practical skills and trades on an equal footing with academic achievement. We have also shown how making energy efficiency a national infrastructure priority will create over 6000 apprenticeships and provide properly insulated homes.
"So by investing in skills and employment for our young people, we can literally build a warm and secure future for generations to come."
The Scottish Green Party's mini-manifesto on education is available here: https://greens.scot/scotland-can/guarantee-a-future-for-our-young-people