Greens launch priorities for education - SNP given report card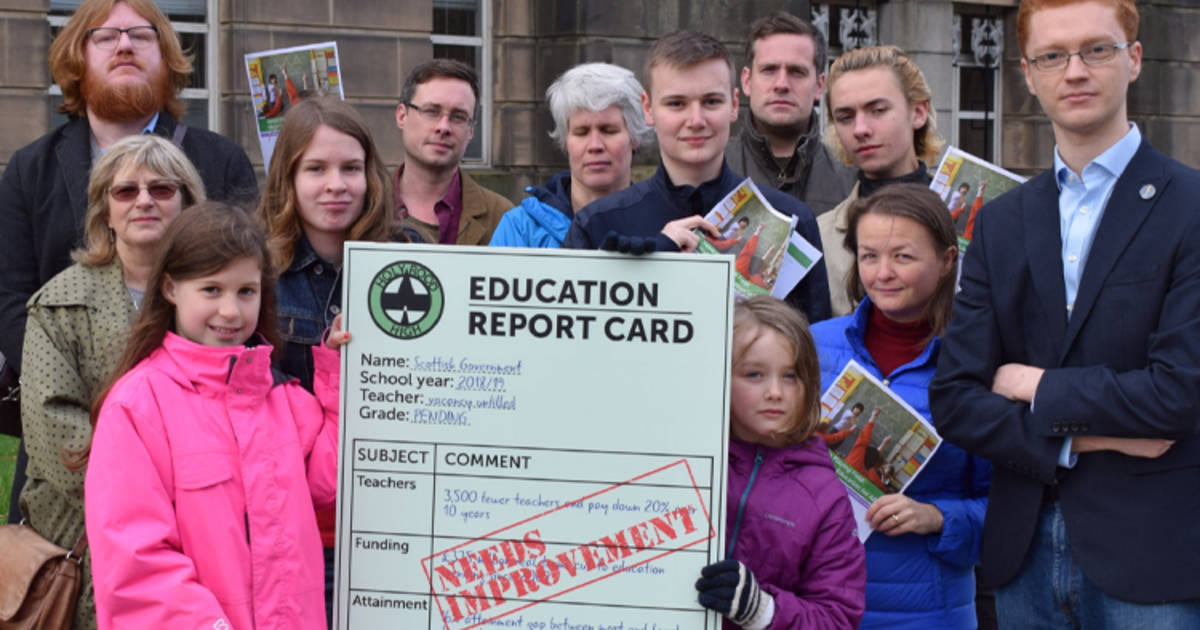 SNP ministers are being invited to "copy the Scottish Greens' homework" on closing the educational attainment gap as the government's agenda continues to flounder.
Green education spokesperson Ross Greer MSP issued SNP ministers with a report card highlighting the government's education policy failures, contrasting this with his party's alternative priorities such as restoring teachers' pay, increasing Additional Support Needs provision and employing poverty advisers in schools.
The Greens' policy paper - Level the Playing Field: Education for All – comes after Parliament voted to scrap standardised testing of Primary One children and as SNP Ministers press on with deeply unpopular governance changes despite shelving their Education Bill.
Earlier this year an opinion poll for the Scottish Greens showed that seven out of ten Scots would prefer investment in teaching staff to governance reforms.
The Scottish Greens' priorities in the classroom include:
*Restoring the value of teachers' pay to tackle the recruitment & retention crisis.
*Ensuring all teachers receive training in Additional Support Needs to address growing demand.
*Making Additional Support Needs teaching a promoted post to encourage people into the profession.
*Deliver a right to counselling services in every school, to address gaps in mental health support.
*Restoring the bursary for Education Psychology courses to meet the need for school counsellors
*Mandating consent-based sex & relationship education in every school
*Educating young people about their rights at work, to address the prevalence of exploitative conditions amongst young workers
*Allowing pupils to co-design the Personal & Social Education curriculum, as they know best what issues affect them.
To minimise the impact of poverty on education, Green priorities include:
*Employing income maximisation advisors in school so families get the social security support they are entitled to.
*Providing all pupils with access to a nutritious breakfast and lunch, including during school holidays.
*Minimising costs of school uniforms and creating a support fund for other costs such as trips and supplies.
*Topping up Child Benefit by £5 a week to lift families out of poverty.
*Uprating benefits in line with inflation, ending the benefit cap, ensuring automatic payment of benefits and ending sanctions.
*Introducing a Young Carer's Allowance - a Green manifesto pledge which the Scottish Government has committed to rolling out.
*Rolling out NHS schemes which boost family incomes, such as Glasgow's Healthier Wealthier Children - a Green manifesto pledge which the Scottish Government has committed to.
*Free bus travel for young people.
*A Scotland Guarantee of training, education or employment for all young people - a Green manifesto pledge.
Ross Greer, Education spokesperson for the Scottish Greens and MSP for West of Scotland, said:
"The SNP's education report card could be defined by one line, 'needs improvement'.
"The core issue facing Scottish education today is not governance structures or lack of tests but a decade of budget cuts which have left school short-staffed, under-resourced and with unsustainable workloads for those who are left. Given the poverty-related attainment gap doesn't start in classrooms though, measures to tackle poverty at source will do just as much, if not more, to help pupils from deprived backgrounds as any measures taken in schools. That is a major focus of our paper and it's one the SNP really need to listen to if they are to have any hope of meeting their own ambitions for closing the gap.
"The priorities we are outlining are the best way of giving every young person the chance to succeed, regardless of their circumstances. If the Scottish Government really wants to close the attainment gap they should copy our homework.
"Greens will continue to press for restoration of funding to ease the pressure on local councils and teachers, so they can deliver education for all."