Equality and environmentalism non-negotiable
Only the disruptive force of the Scottish Greens will deliver for Scotland's people and our planet, conference hears.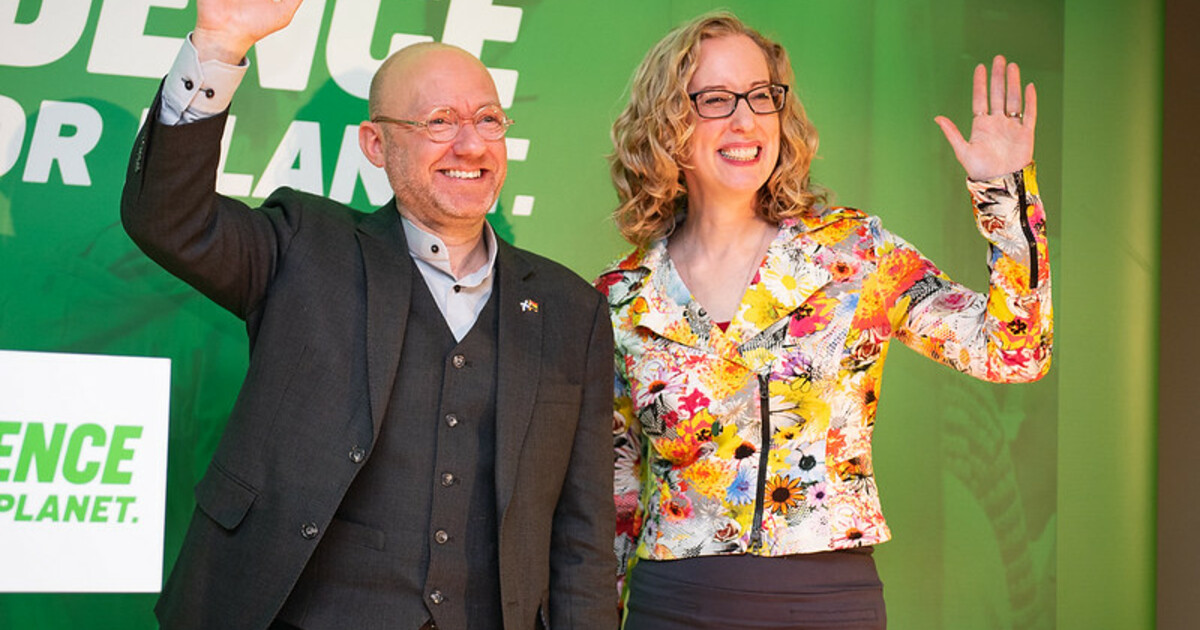 The Scottish Greens will never put their principles to one side for political opportunism the party's co-leader's Patrick Harvie and Lorna Slate have told delegates at the Scottish Greens spring conference in Clydebank today.
Saying that equality and environmentalism are non-negotiable, Lorna Slater said: "If the next First Minister shares these values then we would not just remain in Government. We should redouble our efforts to build a fairer, greener, and independent Scotland."
Speaking this morning, Patrick Harvie said:
"At a time when politics has never seemed so charged, so divisive, so intent to tear down, we are defiantly bucking the trend.
"We are doing so because that is who we are. But also because that is what we must do. Our commitment to a fairer, greener and independent Scotland isn't something that can be postponed. The clock of the climate emergency ticks louder with every passing day.
"That is why we still have so much to do and why Greens are needed in the places where decisions are made.
"On Monday the UN warned us that business as usual is failing. The Climate Change Committee told us back in December that the policies put in place over the last ten years are not big enough, not bold enough, not fast enough to meet Scotland's moral and legal obligations. The Climate Plan which Scotland prepares this year must be and will be our most ambitious, most challenging ever. That is why the Scottish Greens need to be at the heart of that process.
"So, we are achieving more than ever before, we are more popular than we have ever been in our history. The Scottish Greens are needed more than ever before...
"So, if - if - Monday sees a First Minister we can work with, and we deliver on our promises, we can go into the next election for the first time with a track record as a party of government, showing the results you get when you vote Green. If we do that, we will give ourselves the chance to continue to shape the politics of this country in the critically important years ahead."
In her speech, Lorna Slater MSP said:
"Conference, we have unfinished business. I want us to stay in Government and see through the change we have begun. But not at any cost. We will never be a party that is prepared to put our principles to one side.
"We will never be a party that is prepared to put our principles to one side. We will only vote for the SNP's new Leader to become First Minister if they are committed to the politics of cooperation. If they respect and share our values of equality and environmentalism. If they will prioritise climate justice. And if they agree that trans rights are human rights and that our trans siblings cannot be used as political fodder by Westminster.
"These are fundamental issues for us. They are non-negotiable. If the next First Minister shares these values then we would not just remain in Government. We should redouble our efforts to build a fairer, greener, and independent Scotland.
"But we are, first and foremost, true to ourselves and committed to delivering change. We will put ourselves in the place where we can best achieve this. If that is in opposition to an SNP Government that has lost its way and abandoned its commitments to cooperation, equality and environmental progress then so be it...
"We know that the time is now to build an independent country and rejoin the European Union. We know that the time is now for climate action, and to restore our natural environment. Everything, everywhere, all at once. Fast track. Not delay.
"Only the disruptive force of the Scottish Greens will deliver for Scotland's people and our planet."