Edinburgh climate march protest why where and when at a glance
Everything you need to know about the end fossil fuels day of action on Saturday, September 16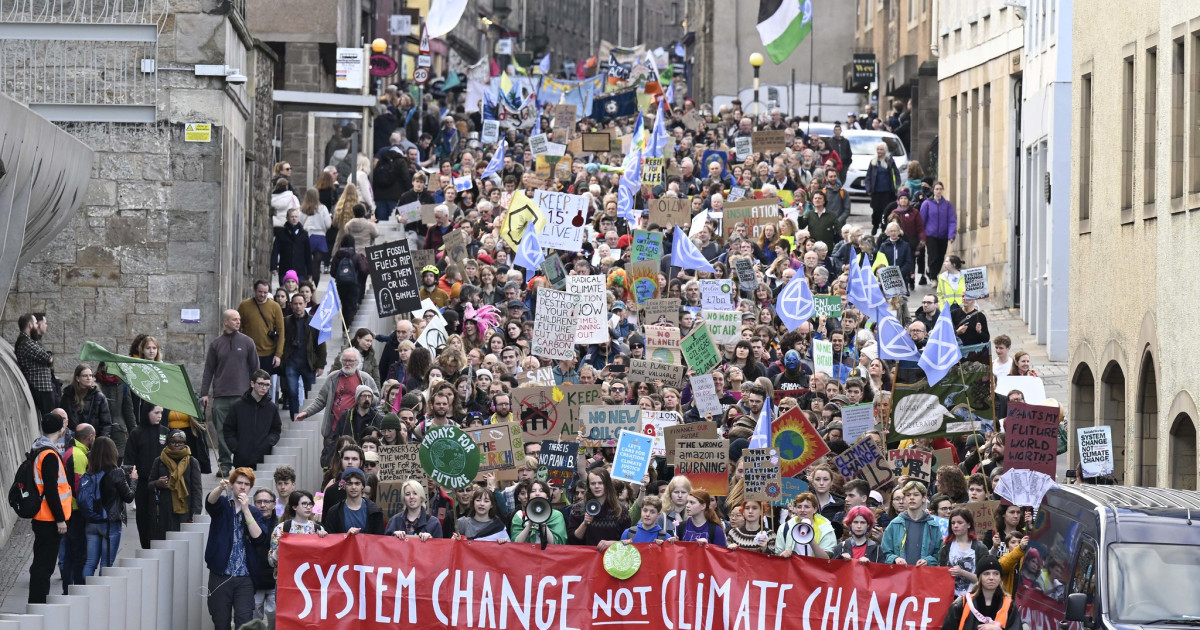 Wait, haven't we just had a march?
Today's event in Edinburgh is one of the first chances for a major climate march here since tens of thousands joined together back in 2019. People from all across the country are gearing up to join whatever the weather, with Scottish Greens at the heart of it.
The other one you are thinking of was two weeks ago when 25,000 people joined together to demand independence for Scotland.
This is focused only on the climate crisis and part of a global day of action which will see millions taking part across the world.
How successful it is depends on people like you turning up, so we hope you do.
What can we expect?
The theme for this year's event is #EndFossilFuels.
Yes, we know that's a no brainer, but the UK Government recently issued 100+ licences for more oil and gas drilling, while fossil fuel companies are also raking in record profits on the back of Russia's invasion of Ukraine and aren't in a mood to stop.
So it is more important than ever that people take a stand. Decision makers need to know that we want them to phase out oil and gas, to ban new fossil fuels, and to make sure workers can get clean, green jobs that help solve the crisis.
Some fear the Tories may use their forthcoming party conference or the autumn statement to announce the go ahead for Rosebank, knowing now that Labour say they would not reverse it. That would be a disaster.
But we are approaching a General Election and politicians at Westminster of all hues will be paying attention.
We need to keep the pressure up to turn that into action.
How are the Scottish Greens involved?
We'll be marching as Green bloc with co-leader Lorna Slater MSP.
It's important for us as both a party of government and as the only party in Holyrood to have consistently stood against any new oil and gas developments including Rosebank, to add our voices to today's action.
Watch out for our banners and new placards at The Mound in Edinburgh from 11am and march past the UK Government buildings and to the Scottish Parliament.
Are there speeches
Plenty.
The likes of Luke Henderson from Edinburgh Climate Coalition, Stop Rosebank campaigner Juliet Dunstone, representatives from Young Friends of the Earth Scotland, Fridays for Future Scotland, Fuel Poverty Action and This Is Rigged are among those taking part.
Others include Freya Aitchison from Friends of the Earth, author and campaigner Mohammed Tonsy, Franciele Sobieral from Edinburgh and Lothians Regional Equalities Council, Steven Gray from Aberdeen Trades Union Council and Chis Aldred from Friends of St Fittick's Park which Maggie Chapman MSP has been campaigner so hard for.
Performances are also expected from Protest in Harmony and a costume parade by XR Scotland.
I've never been to a march before, what should I do?
Marches are hugely motivating and a great chance to meet and speak with like minded people just as passionate about climate as you are.
If you are a Scottish Greens supporter or simply Green curious, join our bloc or others, knowing the values that each represents. Big events like this always have stewards in place to help keep people safe and offer advice if you need to ask.
Dress for the weather, you might want to consider bringing some water in a refillable flask, and think about your footwear. It's not a huge distance compared with some, but it can be slow going when it's busy and old Edinburgh has plenty of cobbles.
Above all, stay safe, enjoy the day, learn from it and be so very proud of being part of such an important occasion.
And listen out for our chant:
For People. (For People)
For Planet. (For Planet)
Thanks, anything else?
The event in Edinburgh today is part of a weekend of action ahead of the UN Climate Week taking place in New York from Sunday.
You could also read up on the latest news from the #StopRosebank campaign group.
Find out more about what we have been doing by reading and bookmarking our climate action page at greens.scot
I can't come, can I still help?
You can join us today and help campaign for a greener, fairer and independent Scotland, or chip in what you can to help.
Follow us on social media too and help share our posts so as many people as possible can follow the march online.
Above all, speak up about climate not just today but every day.