Scottish Greens reveal Mossmorran blueprint for net zero future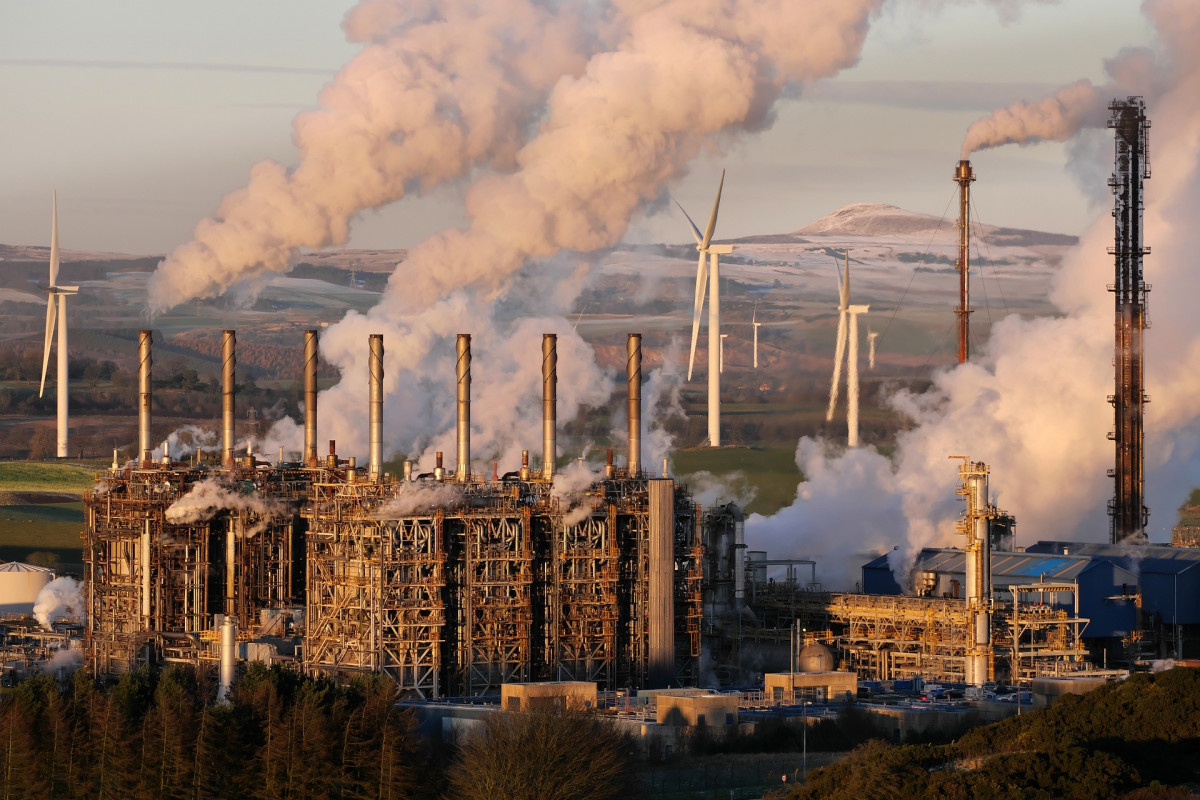 A radical model to climate proof one of the country's worst polluters would save hundreds of jobs and provide a massive boost for Scotland's efforts in reaching its net zero targets by 2045, according to new research.
In a report released today, researchers recommend creating a specific Just Transition plan at Mossmorran in Fife and a delivery path that includes dialogues with workers, unions, the plant operators Exxon Mobil and Shell, Fife Council and the Scottish Government.
It says the current processing plant, identified as the third worst polluter in the country, has an uncertain long term future as world business turns away from its main plastics based products on environmental grounds.
The report warns the plant must abandon its current model and pivot to skilled green jobs for the continued well-being of the local economy and to reduce greenhouse gas emissions.
It also casts doubt on plans to rely entirely on carbon capture storage on site, stating "all scenarios for ethylene production are vulnerable", adding: "Relying on CCS to capture all emissions at the site and upstream poses the biggest exposure to risk."
The study - A Meaningfully Just Transition for Mossmorran: The Case for a Site-Specific Just Transition Process - looks at global pressures on the site, its impact on greenhouse gas emissions, and a workforce driven Just Transition.
If adopted, recommendations in the report - commissioned by Scottish Greens climate and energy spokesperson Mark Ruskell MSP - would provide a significant step forward in securing a sustainable, greener future.
Mr Ruskell said:
"Mossmorran has been a living nightmare for residents who for far too long have felt under siege from their noisy neighbour with its Mordor-esque flaring and fears over safety while also being Scotland's third largest climate polluter.

"Equally everyone is aware it supports jobs both directly and indirectly, which is why I felt it necessary to commission this report to look at the long term viability of the site, its impacts on Scotland's net zero targets and the future.

"What the report has identified is clear possible future pathways to a decarbonised Mossmorran and all the benefits that would bring, if the current operators, workers, government and communities commit to engaging meaningfully."
The report suggests a way to take its recommendations forward in the best interests of the community, something Mr Ruskell said is badly needed.
He added:
"In essence, what we want to see at Mossmorran is a site-specific Just Transition Plan, a Fife focused version of what we are seeing for the oil and gas industry in the North-East.

"This report underlines how an unmanaged decline at the site could be devastating for workers. Instead, it offers at least five alternative core pathways to decarbonisation.

"These range from completely diversifying or converting the site to new industrial use, using electrified processes with no carbon capture, to other alternatives including becoming a hub for green hydrogen and other energy products.

"It is also clear the Scottish Government will struggle to hit its legal net zero targets for 2030 and 2045 without doing something about the huge volumes of greenhouse gas emissions that make this plant one of the worst not just in Scotland, but the UK.

"The report is groundbreaking not for identifying which is the best of those pathways, but for the first time proving that a cleaner, sustainable future for the plant is absolutely viable with a joined-up approach that has workers at its very heart.

"It discusses how it might be organised, the types of funding required, and other international examples of where such an approach has been adopted. Crucially, it also paints a very bleak picture of what the alternative is if nothing changes.

"It is exactly the kind of radical approach and new thinking we need to allow us to ensure we can progress the kind of ambitious, net zero commitments outlined by the Climate Change Committee and others as making Scotland world leading.

"I thank Transition Economics for their thoroughness in conducting this research.
The petrochemical plants at Mossmorran include Shell's Natural Gas Liquids plant and Exxonmobil's Ethylene plant.
Both are located near the former mining village of Cowdenbeath and have been in operation since the 1980s.
In recent years climate campaigners have protested at the gates of the site over its impact on the environment, while it is also under scrutiny by the Scottish Environmental Protection Agency over a number of breaches involving mainly excessive flaring.