Poll shows proposed aviation tax cut hugely unpopular with public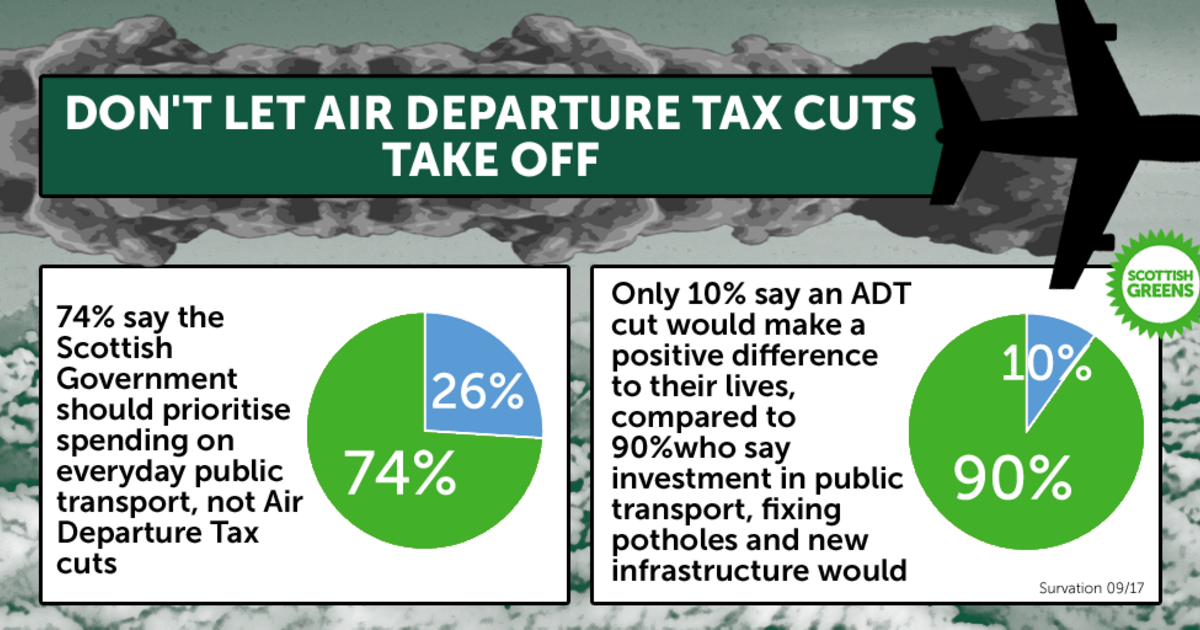 The Scottish Green MSPs, who have been campaigning against Scottish Government plans to cut aviation tax, today (25 Sep) published a poll showing that the proposed cut is hugely unpopular with the public.
The Survation survey of 1,000 Scots shows, of those expressing an opinion, that three out of four would rather the Scottish Government prioritised spending on everyday public transport such as buses and trains while just one in four support the Air Departure Tax cut.
Previous research by the Greens shows that the cut will benefit wealthy frequent fliers by £850 a year, while a couple taking their children on an annual holiday will only save £16. The cut will deprive public services of £700million in revenue, and will lead to an increase in damaging climate change emissions.
Today's opinion poll also asked Scots to say which transport policy would bring about a positive difference in their lives. Fewer than one in ten chose the ADT cut, with nine out of ten people choosing investment in public transport, fixing potholes and new infrastructure.
Patrick Harvie MSP, Finance and Economy spokesperson for the Scottish Greens, said:

"For years Greens have argued against the SNP's determination to cut aviation tax as it will benefit the wealthy rather than helping most people with everyday journeys. It will also deprive our public services of much-needed funds and it will do irrevocable damage to our environment.
"Under scrutiny in parliament, neither ministers nor the industry were able provide a shred of evidence to back up their belief that this tax cut will have positive benefits that will trickle down to the rest of society. Now ministers can see just how out of step they are with public opinion.
"Rather than listening to the aviation industry lobbyists, ministers need to listen to the public, cancel their proposed tax cut and step up investment in the buses, trains and bike lanes we all need.
"The coming year's Scottish budget will be the first to include this new tax, and Greens have been clear that if the minority Scottish Government includes their proposed cut, they cannot look to us for support. With the power to make this highly-profitable, hugely-polluting industry pay its way, we have an opportunity to make Scotland fairer and build a clean economy."