Greener budget needed as figures show Scottish Government weak on low carbon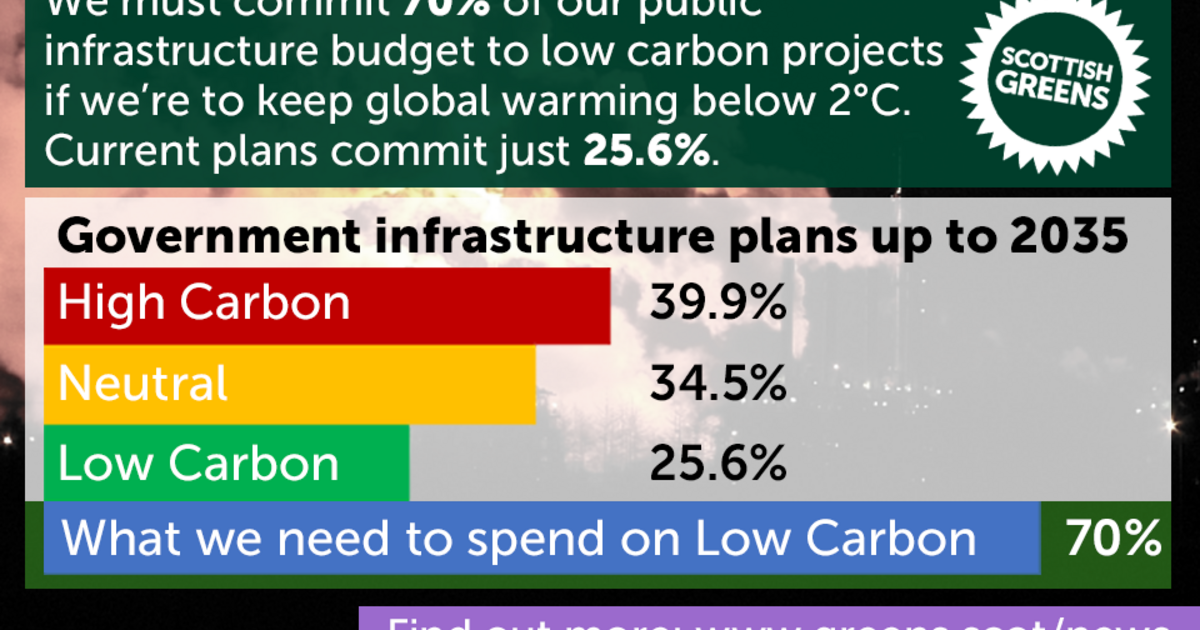 The Scottish Government is failing to heed expert advice to allocate 70 per cent of its capital spending to low-carbon infrastructure projects, analysis by the Scottish Green MSPs shows.
Ahead of this week's UK Budget, which will affect Scottish Ministers' capital spending, the Greens are warning that of Scottish infrastructure projects underway, less than 28 per cent are low-carbon, such as electrification of the Edinburgh-Glasgow rail service. Almost 51 per cent of projects underway are high-carbon, such as the expansion of the M8-M73-M74 motorways.
And of projects being programmed, less than 26 per cent are low-carbon, such as energy efficiency measures in housing, while almost 40 per cent are high-carbon, such as the dualling of the A9 and A96.
Scotland's Low Carbon Infrastructure Task Force has previously highlighted international research showing that to meet the goal of keeping global temperature rise below 2 degrees Celsius, 72 per cent of public infrastructure investment should be directed at low-carbon projects.
Mark Ruskell MSP, Climate & Energy spokesperson for the Scottish Greens, said:
"We all stand to lose by locking in high-carbon spending as it will worsen rather than tackle the climate crisis and do nothing to provide economic stability. Low-carbon infrastructure by contrast, whether it's new rail routes, energy efficient housing or renewable energy, is designed to last, and will sustain employment.
"The private sector, public bodies and charities involved in Scotland's Low Carbon Task Force all agree that low-carbon investment contributes to economic progress and resilience, boosts local business, provides health benefits and cuts fuel poverty. The Scottish Government is missing these opportunities by taking too long to make the shift to the clean economy we all know is needed.
"Green MSPs were mandated at our party conference last month to make the case for 70 per cent capital spend on low-carbon, and we must aim to reach that figure by the end of this parliament. There's still time for ministers to be bolder ahead of them publishing the draft Scottish budget in three weeks' time."