Equal Protection: Finnie bill widely welcomed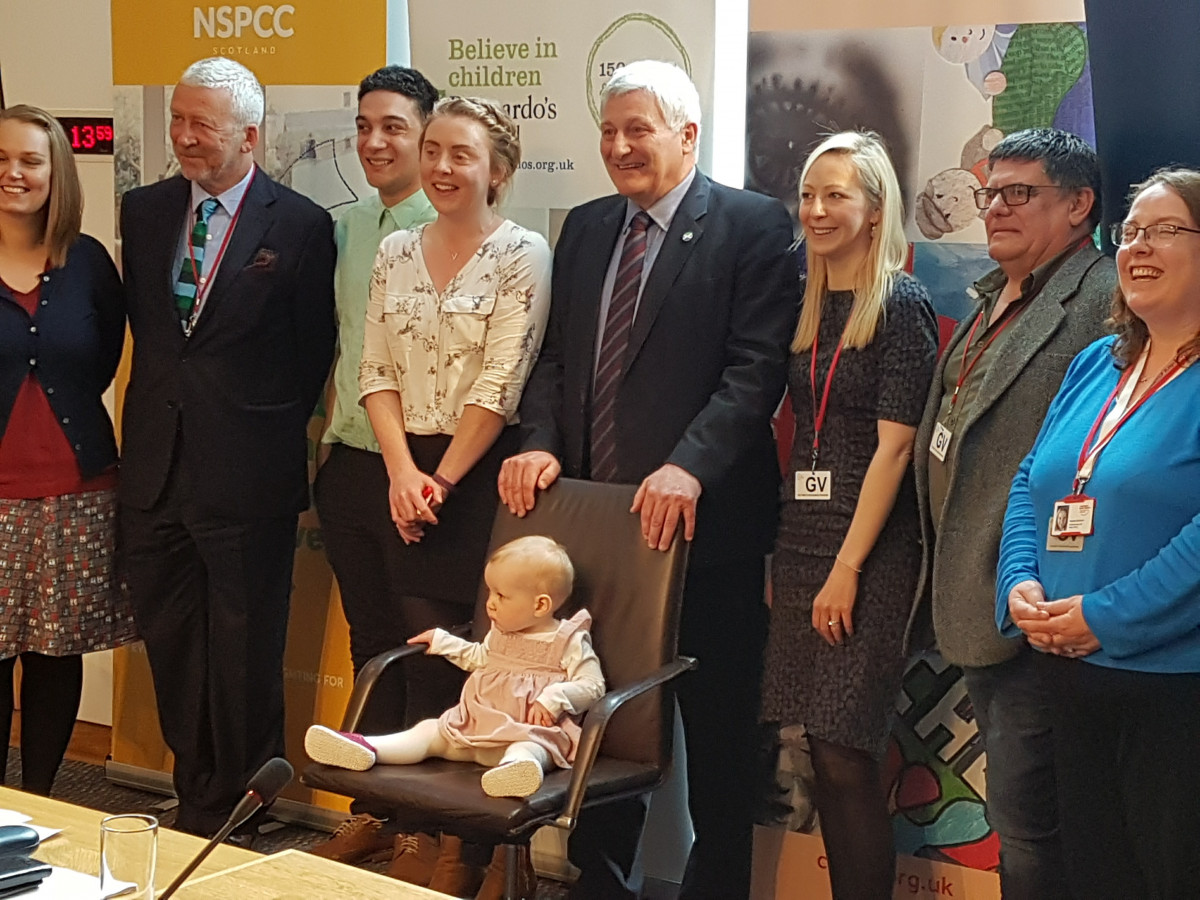 John Finnie MSP, Justice spokesperson for the Scottish Greens, today received widespread backing for his proposed member's bill to give children equal protection from assault.
Launching a three-month consultation on the legislation, Mr Finnie said:
"Scotland cannot be thought of as the best place in the world for children to grow up while our law gives children less protection from assault than anybody else in society. There is clear evidence that the use of physical punishment is detrimental to children's long term health and wellbeing.
"Giving children full protection against assault will send a clear message to all of us about how we treat each other and underpins Scotland's efforts to reduce violence across the whole of society. My proposed bill seeks to afford children the same protection from assault that is currently enjoyed by the rest of society and I would encourage all interested parties to respond to my consultation."
Dr Rev Richard Frazer, Convener of the Church and Society Council of the Church of Scotland, said:
"The Church of Scotland supports the proposed Bill to offer equal protection to children. Whilst parents continue to have responsibility for the nurture of their children, as well as the creation of boundaries for them, we believe that the resort to violence should fade from being acceptable as we come to understand its negative impact".
Thomas Lynch, National Development Manager, Dad's Rock, said:
"Being a dad, mum or carer is hugely rewarding and also challenging. Dads Rock is here to support dads, mums and carers to have strong relationships with their children. Our children deserve to be loved and cared for. Dads, mums and carers deserve the space and support they need to allow them to give their care and love.
"We know children will not thrive if they suffer from physical punishment. I believe that physical punishment of children has no place in Scotland. This new bill will help bring about the change we need to ensure we give all our children the best start in life."
Will Linden, acting director of the Scottish Violence Reduction Unit, said:
"Parents and caregivers have one of the most important roles in Scotland today. Parenting is rewarding but also challenging at times and we must work to ensure caregivers have the skills and support they need to positively shape the early experiences of young people. The Scottish Violence Reduction Unit believes there should be no place for physical punishment as a form of discipline. There can be no justification for assault and this should be removed as a legitimate legal defence. Let's create a country where our children can flourish."
John Carnochan OBE QPM FFPH, former Detective Chief Superintendent and co-founder of the Scottish Violence Reduction Unit, said:
"There is only one group of citizens who live in 21st Century Scotland who can be "justifiably" assaulted, this is wrong. The fact this group is children is not just wrong it's shameful. Our children need our time and our unconditional love, violence has no place in that relationship. If we really want Scotland to be the best place in the world to grow up we must stop using violence, particularly on those we are meant to protect and cherish."
Elaine Torrance, President of Social Work Scotland, said:
"Social Work Scotland warmly welcomes this consultation, and fully supports the proposed change to remove the legal defence of "justifiable assault. The research evidence is beyond compelling that physical punishment of children should cease and be prohibited by law. From our members' significant experience of working with families, we are encouraged that increasingly, parents recognise that physical punishment does not work and that there are safer and more effective ways to manage children's behaviour. Children in Scotland should not only be nurtured, but without doubt given more, not less, protection from violence."
Gordon MacRae, Chief Executive of Humanist Society Scotland, said:
"It can never be reasonable for an adult to assault a child. It unfathomable that here in 2017 Scotland children are afforded less rather than more protection. As Humanists, we wish to see all people, including and especially children, able to live a fulfilling life free from the threat of violence.
"HSS support a new law to provide equal protection for children from assault and call on the Scottish Ministers to work with parents to encourage an end to corporal punishment in the home."
Mary Glasgow, Director of Children and Family Services and Policy, Children 1st, said:
"We strongly support John Finnie's proposal to give Scotland's children the same legal protection from assault as everybody else in society. The current legal defence of 'justifiable assault' against a child makes it more difficult to protect children from severe abuse by creating a blurred line about what is acceptable. Just as importantly it is at odds with what parents know about the importance of building strong healthy relationships to help their children thrive.
"Parents tell Children 1st's ParentLine service that using physical punishment makes their children's behaviour worse and strains their relationships. Their experience is backed up by a robust body of research, which shows that physical punishment doesn't work and can be harmful to children's long-term health and wellbeing. Most parents in Scotland today have already chosen not to use physical punishment but we cannot continue to let our law give the mistaken impression that physical punishment can be helpful, when we know, without a doubt, that it can harm."
Martin Crewe, Director of Barnardo's Scotland, said:
"We are delighted that this consultation on the Children (Equal Protection from Assault) (Scotland) Bill has been published and we congratulate John Finnie on his commitment to this important issue. Barnardo's Scotland works with over 26,500 children and their families every year and we know how important positive, healthy attachments are for children. Children's brains develop best when they feel safe and when they are nurtured, we want to see a society and a culture where no violence against children is acceptable and we believe this Bill will be a huge step towards achieving this.
"Our joint research report 'Equally Protected' set out very clearly the need for legal change in order to ensure our most vulnerable in society are fully protected from harm within the law. Children deserve equal protection from assault and we very much look forward to working with John Finnie and MSPs from across all parties to make this a reality and ensure Scotland really is the best place in the world to grow up"
Joanna Barrett, acting national head for NSPCC Scotland, said:
"Giving children the same protection against assault as adults would bring Scotland in line with dozens of other countries which have already done the same.
"Many professionals across health, education, social care and the police, as well as children's organisations, have concerns about the law as it stands. Evidence shows that the majority of parents realise that physical punishment is not an effective way of disciplining their children and do not wish to use it.
"But despite growing evidence that physical punishment is harmful to children and a change in public attitudes towards physical punishment one group in Scottish society – children – still has less protection against physical assault than others. We hope today's consultation is the first step towards Scotland giving children equal protection under the law."
Tam Baillie, Children & Young People's Commissioner, said:
"The launch of John Finnie's consultation is a positive step towards providing children with equal protection from assault. It is hard to believe that our legal system continues to provide a defence of 'justifiable assault'. For me, there is no such thing because there is no way we can ever justify the hitting of a child. Research evidence is clear that physical punishment, no matter how 'light', has the potential to damage children. It also shows a clear link between the use of physical punishment and an escalation into more abusive behaviours.
"This consultation is about taking the overwhelming evidence of harm caused by physical punishment and using it to bring about change that benefits both children and parents. My hope is for people across Scotland to engage in this consultation, not only as a means of making their views heard in Parliament, but also as a way of starting important conversations within families and at home.
"We need to live in a country that treats children with equity and fairness. Our children have the right to the same protection from assault as adults, and in 2017, surely that is just common sense?"
Satwat Rehman, Director of One Parent Families Scotland said
"Children deserve as much respect as anyone else, so just as it unacceptable to hit another adult so it should be unacceptable to smack a child. An end to the physical disciplining of children should be shaped by a children's rights perspective therefore I welcome the consultation initiated by John Finnie MSP and his proposed bill. OPFS will be encouraging single parents to get involved in the consultation.
Removing the defence of "'justifiable assault' from Scottish law and thus giving children equal protection under the law on assault is the only just, moral and safe way to clarify the law. There already exists adequate means to prevent unwarranted or unhelpful prosecutions and this would eliminate the current confusion over what is acceptable and provide a clear basis for child protection. "