This is no time to rein in our ambitions on tackling climate change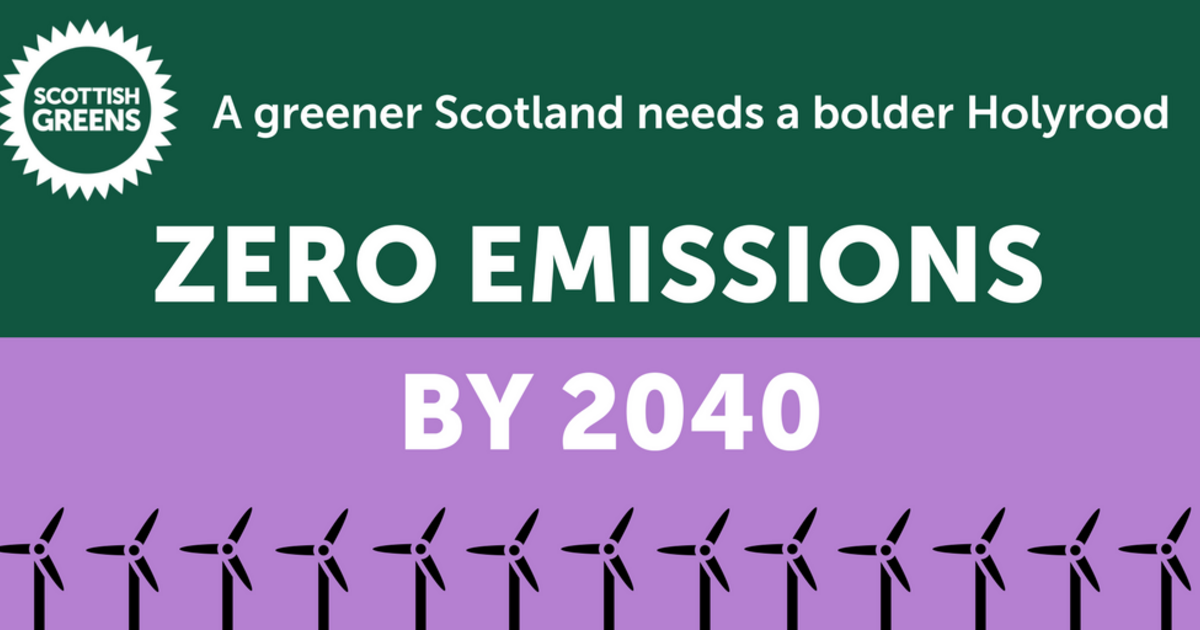 Warm, cheap-to-heat housing, affordable trains and convenient local bus services, and good food with minimal waste – everyone's lives could be so much better if we seize the opportunity presented by Scotland's new climate change laws.
Last week the Scottish Government quietly published its proposed Climate Change Bill. However, disappointingly for those of us who have campaigned to protect the environment, it fails to set a date for a net zero carbon target. The Government's proposed target of 90% emission reductions by 2050 raises the bar only a little above the previous target of 80% set in 2009. In fact, it represents a slowdown of the rate of emissions reduction for the decades ahead than the rate over the last ten years. I believe our progress to date demonstrates we can be bolder going forward rather than accept a slowdown on the rate of emission reductions.
Indeed, this is no time to rein in our ambitions as the overwhelming evidence from the scientific community suggests that global emissions must peak by 2020 to avoid the most damaging effects of climate change.
One way to cut through the complexity of this has been outlined by Johan Rockström, a leading climate scientist from the Stockholm Resilience Centre, where countries follow a 'Carbon Law' and commit to halve their total emissions output every decade. This would place a responsibility upon all sectors of the economy and society to play their part and take bold steps in the short term. This is a relatively simple high-level strategy, not easily swayed by introductions of new technologies or changes in behaviour, and allows policy makers and individuals on the ground to take the lead in innovating solutions. Policy-makers would plan for emissions to fall in a steady linear fashion year-on-year, ensuring that the pace of change is kept constant. Expecting a clear roadmap to net zero to be in place before making transformational changes risks complacency, as we wait for a technological fix that does not emerge in time to have a meaningful impact.
As Scotland's current legislative framework for addressing climate change emphasises the importance of meeting annual emissions targets, it would be difficult to incorporate Rockström's Carbon Law approach wholesale. However, setting a 2040 net zero target would have a similar effect as it would require planning to reduce emissions year-to-year in a relatively steady, linear fashion.
Planning a course of action over such long timescales is unusual in the political sphere, but we must make radical changes in across the transport, agriculture and land use sectors if we're to have a serious chance of hitting peak emissions early and building a fairer, greener society. The urgency with which we must respond to this challenge is why the Scottish Greens are calling for the bill to set a net zero carbon target for 2040. The government is dragging its feet on setting the target giving the go ahead for business as usual: dualling major roads rather than providing affordable public transport options, holding multiple public consultations on energy efficiency rather than rolling out a nationwide household retrofitting programme
On Thursday, Patrick Harvie raised these concerns about the new Bill directly with the First Minister. I want to take a moment to respond to some of the defences offered for the Government's hesitant approach. Much is made of the fact that Scotland, unlike countries such as Sweden and Norway with more ambitious targets, will not be relying on carbon credits. The First Minister highlighted Sweden in particular, which aims to achieve net zero by 2045, as a country relying on offloading some of its emission reductions to other countries through carbon credits rather than relying on efforts at home alone. In fact, the Swedish legislation is not that different from what the Scottish Government has just published. It's true that Sweden reserves the right to make the final 15% of its reductions through carbon credits, but the proposed Scottish bill also reserves the rights of Ministers here to pass regulations allowing 20% of annual targets to be met through carbon credits.
The First Minister also referred to the fact that we are the only country to include international shipping and aviation emissions in our climate accounting. This is indeed commendable, but it does raise the question of why the SNP continue to insist they will scrap Air Departure Tax by the end of this Parliament when that will surely have a detrimental impact on our efforts to reduce emissions.
Patrick Harvie was also told that honesty is required about the scale of the changes needed to achieve a net zero target. Greens have never been shy to be upfront about what is needed: a progressive income tax system and radical changes to local taxation that will allow us to fund an affordable, low carbon public transport system. Increased investment in low carbon infrastructure in annual budgets, providing much needed walking and cycling infrastructure in our cities and towns. A thriving local food system, supporting new innovations in farming practice. A commitment to make our homes energy efficient by 2030. Greens see no problem in being honest about that.