On climate change, Scotland has a chance to continue powering ahead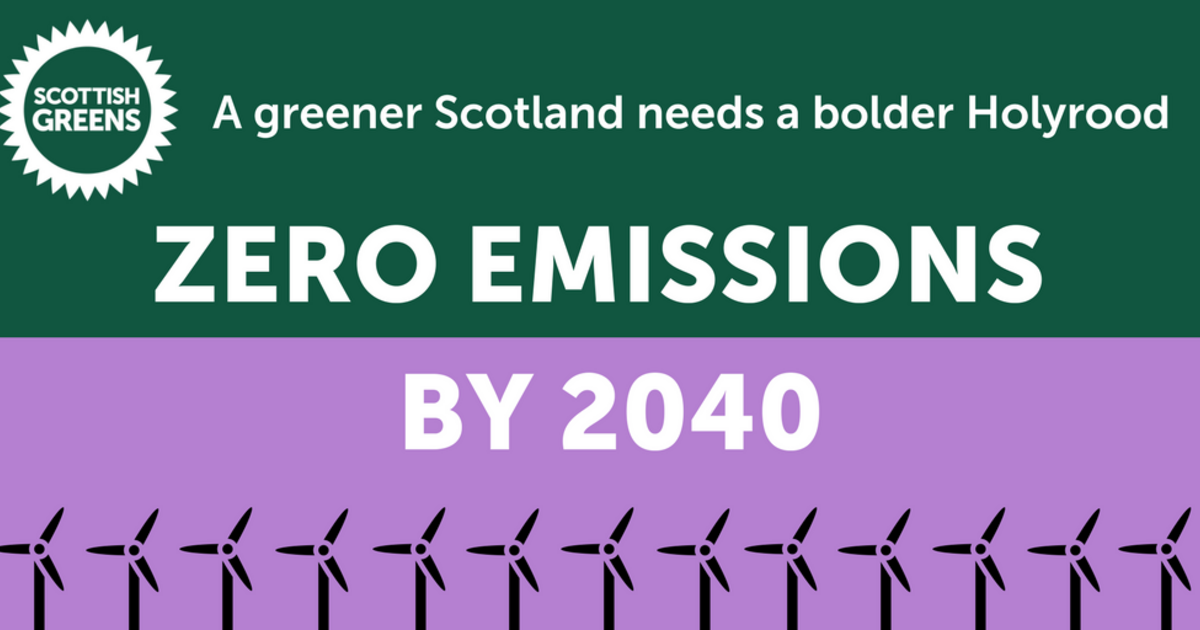 "The psychological message is that the train has left the station. The signal sent to investors, businesses, individuals and civil society is extraordinarily powerful."
Scotland should be inspired by these words, from former US vice president Al Gore. At the launch earlier this month of his new film on climate change, An Inconvenient Sequel: Truth to Power, the Nobel prize-winner said that the current occupant of the White House is isolated and unable to prevent global action on climate change.
Donald Trump may have ordered a review of Obama-era regulations and declared that the US will leave the Paris climate agreement, but he has missed the boat. Other countries are pressing on and even American states and cities say they will ignore their President's position.
Here in Scotland, we like to congratulate ourselves on having tough targets for reducing climate change emissions and for increasing the amount of energy we generate from renewable sources. But the seriousness of the global climate situation demands that we renew our ambition.
Last week, the US National Oceanic and Atmospheric Administration published its latest State of the Climate report, showing that 2016 was the warmest year in 137 years of record keeping. Levels of carbon dioxide in the atmosphere hit new highs, as did global sea levels, while at both poles the extent of sea-ice hit new lows.
The annual land surface temperature for Europe was the third highest on record, Russia had its warmest winter since records began in 1891, Switzerland had its warmest September in its 153-year records, while France observed temperatures up to 7 degrees Celsius above average.
Hilariously, as this was being published, Radio 4 was giving airtime to climate change denier Lord Lawson whose claim that global temperatures had "slightly declined" over the past 10 years was quickly debunked. Like Trump, he too has been left behind.
In Scotland, current targets are for greenhouse gas emissions to be reduced by 80 per cent by 2050. The Scottish Government, in its consultation on a new Climate Bill, notes that reducing emissions can provide wide economic and social benefits, such as new jobs, improved air quality, and positive health outcomes. While it proposes increasing the target to a 90 per cent reduction, it does not propose bringing forward the date.
I believe aiming earlier will drive innovation in transport, energy and agriculture - the biggest sources of emissions. 2040 is the right date as it maintains our current downward trend. We should not slow down in our approach. We should aim to catch up and overtake other European countries such as France and Sweden who have already committed to becoming zero-carbon.
Greens in Government in Sweden have already committed to cutting net carbon emissions to zero by 2045. An agreement drawn up by a cross-party committee was passed with an overwhelming majority in parliament. It establishes an independent Climate Policy Council and requires an action plan to be updated every four years.
So what chance do we have of setting a tougher target in Scotland's new Climate Bill, making Zero Carbon Scotland a real prospect?
I'm hopeful that SNP Ministers are open to persuasion, although getting them to follow through with emissions-reducing policies could be tricky. While they're supportive of renewables they also want more tax breaks to encourage oil and gas exploration, and I'm afraid on transport they're stuck in the past. Take this week's ribbon-cutting and back-slapping for spending £500m on extra sections of motorway. Such road-widening will inevitably cause an increase in traffic and an increase in climate emissions. Think what that £500m could have done to reduce emissions and improve opportunities for those who can't afford a car: rail line reopenings, better buses, dedicated cycleways... the list goes on.
The SNP membership has been pretty vocal on the issue of fracking and Greens have stood with communities and pursued a ban right from the start. We've been promised a decision and a vote in Parliament before the end of this year. Let's hope it's the right one.
The Tories of course think fracked gas is the best thing since sliced bread when it's simply a short-lived fossil fuel we can't afford to burn, so they have a long way to travel on climate-friendly policies. Perhaps Labour, who used to support fracking but then ahead of the Holyrood election realised they were out of step with the public, will continue on their journey of enlightenment. In a Holyrood debate in December, I proposed that Scotland should generate 50 per cent of its electricity, heat and transport demand from renewables by 2030. Labour MSPs abstained but last week they announced that it's become one of their "aspirations".
The new Climate Bill is a golden opportunity. Trump, Lawson and their ilk are being left far behind. Scotland has a chance to continue powering ahead.
This article first appeared in the National.