Stirling Greens have a fantastic candidate for the 12 Dec General Election in Bryan Quinn, now we need YOUR help to support our election campaign!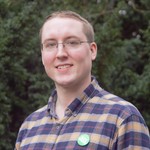 Bryan Quinn was born and raised in Clackmannanshire, where he currently lives with his wife Cara and two young children, Roman (9) and Logan (6). After starting his career in the publishing industry he became the first in his family to attend university, studying at Stirling University. Bryan graduated with a first class honours degree in psychology and last year completed a postgraduate qualification in behavioural finance. Since graduating Bryan has been working in financial services.
Bryan is a member of his local community council and volunteers as a director of Clackmannanshire Credit Union. He previously ran in the 2017 Council Election for the Scottish Green party in Clackmannanshire, where he narrowly missed out on becoming the first Green councillor in the council.
Please, please, please contribute to our crowdfunder to help us fund the £500 deposit we need to enable Bryan to stand, and at least £500 for campaign literature. The Scottish Green Party don't have big corporate donors calling the shots - so we depend on our members and supporters to fund our campaigns. Please donate whatever you can afford - to get the Green message to every voter in Stirling, and a Green voice at every hustings. The climate emergency can't wait. Thank you!
https://www.crowdfunder.co.uk/stilringclackselectionfund?tk=82b00ed12921de5df9e57c3609b01895744f3687
Scotland needs more Green voices at Westminster.
Brexit is creating chaos. The UK Parliament is in turmoil. The Climate Emergency is being sidelined and not receiving the urgent attention it requires.
The Stirling and Clackmannanshire Greens want to contest the expected snap General Election to raise the profile of Green politics and to help elect a Scottish Green MP and put the climate emergency top of the agenda.
Unlike other parties, the Scottish Greens don't have big corporate backers or large private donors, so we rely on the generosity of people like you to help us campaign.
Please give what you can to support our General Election Fund. If every Green member and supporter in the area contributed just £5 we'd be nearly there!