Scotland can build more homes: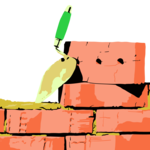 A radical housing agenda. Green MSPs will campaign for a radical programme of reform designed to deliver thousands more good quality, affordable, sustainable homes. Our ideas are designed to make land available for housing at low cost and ensure more homes are built where they are needed.
Get more for our money. We can build more houses, to a higher quality, with the same budget by paying less for land. We will push to give Councils the power to buy land for housing at 'existing use value', where land is valued according to its current use rather than what it could be worth if another activity, such as house building, were to take place. This was possible in Scotland until 1959, and is still done in Germany. It will allow local authorities to ensure housing is delivered for less money, by councils, housing associations, co-ops and the private sector.
Use empty homes and vacant land. We will fight to end tax reliefs which keep homes and land out of use. Scotland's 11,000 hectares of vacant and derelict land should be liable for non-domestic rates. This would raise £250m a year for investment and encourage development on the land. Our property tax would include no reduction for second or empty homes and help bring Scotland's 27,000 empty homes back into use. Using a property as a second home should require planning consent – this would boost the supply of housing in rural areas. We will support new legislation to enable development in the public interest where land is in fragmented ownership.
Unlock investment. We will propose a Housing Investment Bank as an extra source of funding for social housing. Investment can be made attractive to pension funds through a government-guaranteed rate of return. This would offer security to pension funds, an ethical investment for public pensions and a large additional source of housing funding at little cost to the government. This would be similar to the idea behind export credit guarantees (where the Government covers part of the risk of exporting, in order to encourage exports) – removing some risk in order to achieve an economically desirable outcome.