Scotland can be a healthy society: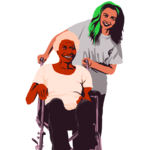 Austerity has led to widespread cuts in health and social care, which have disproportionately impacted disabled people and those who care for them. Green MSPs will seek to support disabled people by ensuring they have access to a well funded and connected health service while empowering local government to raise the necessary funds to provide adequate social care.
Furthermore, the Scottish Green Party will give mental health equal importance with physical health, seek to address disability issues in childhood and be proactive in assisting with maintaining good health while in employment.
Wellbeing at the centre of government. Scottish Greens support measures to make our society's good health, equality and wellbeing the foundation of all Scottish Government policy.
Green MSPs will fight for a health service that is designed for the future. The NHS in Scotland must be kept in public hands and we support a review of all contracts with private providers. Austerity measures and welfare reform have had a significant impact on large numbers of people who are already in the poorest health, and will continue to do so for years to come. Funding for NHS in Scotland needs to be increased to take account of this, and Health and Social Care integration needs to provide joined up care with strong links between social, primary and acute care.
Funding social care. Social care supports many thousands of people to lead a more independent life but funding is stretched to breaking point. The freeze on local tax powers and cuts to local budgets have led to increased charges. Older people, disabled people and their carers – predominantly women – are at greater risk of poverty as a result. Local governments must be allowed to raise funds fairly, such as through progressive tax and not increased charges, to pay for social care which enables people to live full lives and avoids the social and human cost of poverty and inaction.
Tackling children's health challenges. Green MSPs will focus on creating a child-friendly society. We will support programmes aimed at providing young people with confidence and self-worth and campaigns to reduce stigma and social pressures on children. We will support action on identifying child mental health issues early and addressing child trauma, bereavement and loss. Tackling child poverty and the impact of Westminster benefit cuts on the people they have put at risk will be top priority for local authorities and Community Planning. This includes disabled people, refugees, women and their children.