Scotland can care for carers: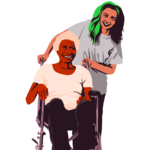 Better pay for caring. People who care are undervalued and underpaid. Social care workers do hard and vital work in people's homes, care homes and every community – but it remains one of the lowest paid sectors, fuelling the gender pay gap. Green MSPs will campaign for all care and support workers to be paid significantly above the Living Wage financed by progressive taxation not care charges. Earlier this year Green councillors in City of Edinburgh Council proposed a funded plan to pay a 'Living Wage Plus' of £9 an hour to social care staff. Green MSPs will campaign for this to be introduced across Scotland to help local authorities recruit the best staff and retain those with experience.
And better conditions. Better conditions for staff are a vital foundation for a better social care service, fully supporting professionals to put the needs of those being cared for first. Green MSPs will demand improved working conditions for social care workers, such as paid travel time, sick leave, skills training and an end to 'Zero Hours' care worker contracts.
Helping unpaid carers. Scotland has an estimated 788,000 people providing unpaid care to family members and friends. More than half of working-age carers juggle paid employment with caring. Female carers are particularly affected by the financial cost of giving up work, refusing promotions or reducing their hours of employment. Green MSPs will fight for a better deal for carers. Power to increase the Carer's Allowance will soon be devolved to the Scottish Parliament and Greens will campaign for a 50% increase in payments to £93.15 per week. Young carers and student carers also need financial support and we will explore introducing a Young Carer's Grant.
A fair Carer's Allowance. We will also support a redesign of the Carer's Allowance to value care, tackle financial stress and reduce paperwork – this should include a lower threshold for hours of care and a top-up for people who care for more than one person. Any increase in payments will require a fair settlement with the UK Government and local authorities to guarantee such an increase does not reduce other benefits payments or increase care charges. We will press for clear guidance to local authorities when assessing income to determine non-residential care charges. We advocate the exclusion of Carer's Allowance from such income assessments, so that no carer must spend their allowance on these services.
Carers' rights. New carers' legislation requires local authorities to identify every carer's needs and create an individual support plan. Green MSPs will campaign for adequate resources to implement this and to help make sure those needs can be met with good quality support such as replacement care, short breaks, health checks and concessionary travel for carers on income support. Young carers also need extra support and we want to ensure their voices are heard in any discussion of carers' rights. We will also back the creation of an independent social care tribunal system to help carers and those they care for to realise their existing rights.
No pension poverty. A pension should provide a guarantee for people in retirement. Green MSPs will campaign for a state pension which enables everyone to live with dignity. We will push for a Scottish supplement to be paid to all those not receiving the full State Pension, with the costs offset through reduced Pension Credit uptake reclaimed from the UK. 1 in 5 Scots have a financial interest in local government pensions. Greens will support unions to protect the interests of workers and we will make the case to lift restrictions on funds that choose to invest in local infrastructure such as social housing. Private pensions remain reserved but we will support campaigns to ensure the best deal possible for people in retirement.