Scotland can transition to fossil-free energy sources: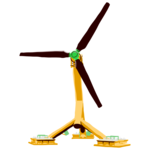 More green jobs. There is an abundance of highly talented people working in the Scottish energy sector. The Scottish Greens want to see these skills flourish in a sustainable energy sector which contributes to a low carbon future. We will support a managed transition plan which will deliver over 200,000 jobs in renewable energy and associated industries. We will call for increased funding for Modern Apprenticeships and Science, Technology, Engineering and Mathematics to enable more young people, particularly young women, to move into renewable energy generation, supply and support.
Harness green technologies. Government support is needed to fully develop the technology for this energy transition. We will champion increased research and development for strategically critical sectors, such as liquid air energy storage and tidal stream, to enable a smooth transition to a renewable energy future. Increased investment should also be directed to domestic energy storage systems allowing those who generate renewable energy for their own home, such as through rooftop solar panels, to balance variable generation levels with household demand.
A Greener Grangemouth. The Grangemouth refinery will remain a key asset during the transition away from fossil fuels. We will call for increased investment in the research, development and demonstration of alternative bio-based feedstocks at Grangemouth to reduce dependency on petrochemicals. We will keep options open to support a public-worker ownership model.
A Scottish Renewable Energy Bond. Green MSPs will support the introduction of a bond to create capital to finance further development and expansion of renewable energy projects in Scotland. This will allow savers and investors across the country to support the rollout of clean, sustainable energy and to generate a return on their investment as the industry grows.
Resist subsidy cuts. The UK government has made significant cuts to subsidies for solar energy and reduced the feed-in-tariff rates across all renewable sources. Green MSPs will stand strong against further cuts to the UK Government's renewable energy subsidies.