Scotland can provide equal access to green jobs: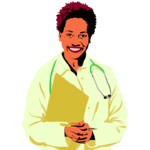 Scottish Greens are committed to a green economy that offers security, jobs and decent livelihoods for all, and does not pursue growth for growth's sake. An economy that breaks from austerity and prioritises fair pay will be vital if we are to improve gender equality in Scotland. We will push for the creation of 200,000 jobs in sustainable industries in Scotland, through wide-scale transition into renewable energy generation, design and research. A crucial element of this will be to ensure equal access to these opportunities, including for diverse groups of women.
Commission on gender and racial occupational segregation. We will back a commission on gender and racial occupational segregation. This would tackle issues that see women and people from minority ethnic communities in low-paid, insecure work that underpins the gender pay gap and relative poverty for certain minority ethnic communities. It would report on ways to ensure that job creation in green sectors does not entrench gender inequality in science, technology and engineering and to address the high level of gender and racial segregation in the current Modern Apprenticeships scheme.
Fair pay. We believe that no-one should be paid poverty wages, and that the gender pay gap must finally be eliminated. Women working part-time in Scotland, often because of caring roles, currently earn 33.5% less per hour than men in full-time employment. We will campaign to make government business support available only to those companies who pay the Living Wage, avoid zero-hours contracts, recognise unions, have fair wage ratios, pay people of all genders equally and are environmentally responsible.
Gender equality in Business scheme. Too many people are marginalised in the labour market, including unpaid carers, disabled people, women, LGBTI+ people and those from minority ethnic groups. For disabled women, minority ethnic women and others this disadvantage is often multiplied. Green MSPs will support calls for an accredited Gender Equality in Business scheme to incentivise gender-sensitive employment practices, such as flexible working, and to tackle sexism, transphobia and other inequalities in the workplace.
Abolish employment tribunal fee. Women routinely experience discrimination in the workplace. 54,000 women may be forced out of their jobs in Britain each year due to pregnancy and maternity discrimination. We also have less access to the resources needed to challenge this discrimination, as demonstrated by the 87% drop in sex discrimination cases in Scotland since fees for Employment Tribunals were introduced in 2013. Green MSPs will push for Employment Tribunal fees to be abolished. This will help to tackle workplace discrimination related to maternity leave and help women to exercise their maternity rights at work.