Green achievements in Europe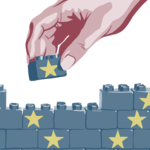 Green MEPs have a central role in helping shape the EU's strategy on climate change, calling for binding targets, more renewable energy generation and energy efficiency measures.

Greens raised awareness of dodgy trade deals being made behind closed doors. In 2012, we successfully defeated the trade agreement on intellectual property rights (ACTA), which was shrouded in secrecy, and powered by profiteers. Greens are now at the forefront in the fight against pro-corporate and anti-democratic measures that are set to be part of the Transatlantic Trade and Investment Partnership (TTIP).

Greens have campaigned to limit the power of big business and have supported the tightening up of the lobby system in Brussels.

Greens argued for the creation of a special committee into corporate tax avoidance. The committee has led to a raft of proposals which MEPs are calling on the commission to introduce into law. The measures include preventing companies that have subsidiaries in tax havens from receiving EU money.

In 2015, Green MEPs succeeded in forcing a parliamentary inquiry to investigate the car pollution scandal, following revelations that Volkswagen and other manufacturers were using software devices to cheat pollutant tests.

Greens succeeded in bringing about a Europe-wide cap on bankers' bonuses, despite fierce opposition from the UK Government

In 2015 Keith Taylor was awarded the European Parliament's top 'MEP for Animals' award in recognition of contributions made to animal welfare.

Our MEPs have campaigned to end cruel factory farming practices, such as the use of farrowing crates for pigs and zero-grazing, and for EU legislation to include protection of cows, farmed fish and beef cattle. In 2012 they won an EU-wide ban on battery cages.